What is the WeMod Remote?
The remote is the easiest and fastest way to launch your games, check hotkeys, and control mods.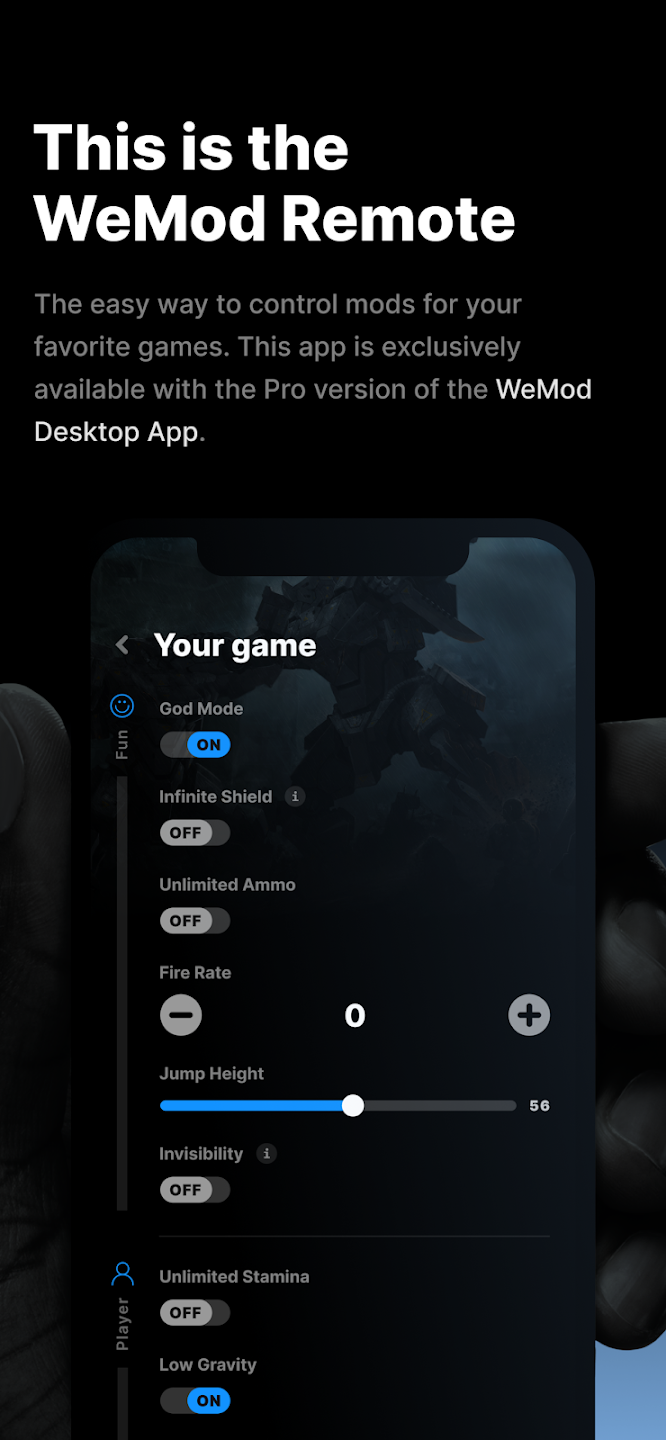 ---
How do I access the WeMod Pro Remote?
YOU MUST HAVE AN ACTIVE PRO SUBSCRIPTION TO USE THE REMOTE. Click
HERE
to upgrade.
Install the WeMod Remote App by searching for "WeMod" on Google Play or iOS App Store or scanning the QR Code below.
Once the Remote app is installed on your phone and opened, find your pin in the WeMod desktop app by clicking the Remote icon in the upper right.




Head back to the remote, click Get Started, then enter your pin shown in the WeMod desktop app.



Voila, you're in.
---
Starting a trainer with the Remote
You can quickly and easily launch your games directly from the Remote. Your 'My games' list is sorted by recently played and then alphabetically.
Once connected to the Remote (see above), find the trainer you want to use.




Now click Play at the top. WeMod will open your game and set up the trainer.



---
Activating Mods with the Remote
Using the mods from the remote is super simple. All you need to do is click the button, slider, numeric input, or toggle under the mod's name. These mods will automatically be enabled if you have saved mods for the game.
---
The remote still tells me to open WeMod on PC after entering my pin
The quickest way to resolve this issue is to force close both apps.
The desktop app can be restarted by closing it with the "x" in the upper right then closing it from the tray, or you can close it directly from the task manager. Once it has been closed, simply launch it from the start menu.
To close the app on Android, please follow the instructions here: https://support.google.com/android/answer/9079646?hl=en
To close the app on iOS or iPadOS, please follow the instructions here: https://support.apple.com/en-us/HT201330
If the app still does not connect after restarting both, please try connecting to remote.wemod.com from any browser.
---
Was this article helpful?
---
What's Next