Files are missing
WeMod says files are missing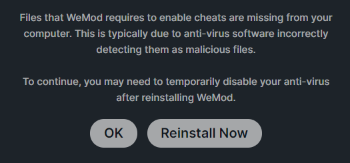 If you see this error when attempting to start a game, WeMod could not locate some required files. To fix this, follow the onscreen instructions to reinstall WeMod.
---
I reinstalled WeMod but still received the error, what do I do now?
Your antivirus may be deleting critical files. Before reinstalling WeMod add WeMod as an exception to your antivirus and firewall.
Once you have added WeMod as an exception to your antivirus, download the latest version of WeMod from
Here
and run the installer.
When WeMod is done reinstalling, try rerunning the trainer.
If you still receive the same error, please create a new post on our
Community Forums
, and one of our knowledgeable support staff will help resolve the issue.